Our Maple Wood Prints are a highly unique print option which allows wood grain to show through the light areas of your image to add a stunning touch of nature to any piece. Give a touch of nature to your landscape photography or graphic design prints with wood prints. The edges show the layered maple and have been sanded with rounded corners for a finished look. The cleat mount will make your print look like it's floating on your wall.
Free shipping on orders over $150
Get a Quote For Your Project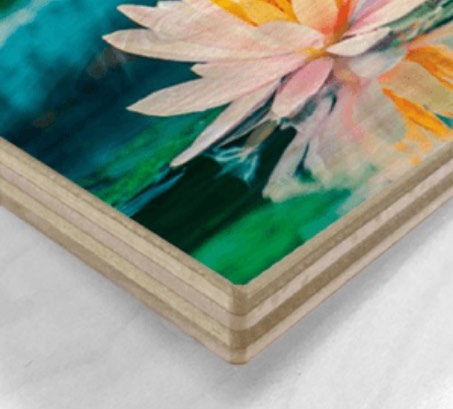 Brand:  Graphik Printworks
Printer: Agfa Jeti 1224
Ink: Agfa UV
Your image is printed directly onto 3/4″ of high quality maple wood and sealed with a natural finish. Ready-to-hang with a cleat hanging system. Wow your friends and clients with this unique display option. It't not everyday that you can see nature shining through your artwork. Gives an organic touch to every piece with the grain pattern. 
Ready to make art with Custom Canvas Prints?
It's easy to upload your images and photos. Or, have us download ideas from your brain. Upload, crop, and place your custom canvas art orders below!